Worst Case Scenarios:
A. "I've met someone else."
B. "I think it was a bad idea, and it's not gonna work out."
C. "Don't bother waiting for me."
D. "I don't like you."
E. "You're creeping me out."
F. "I'm filing a restraining order."
G. "(All of the above)."
Some, I would hope, aren't likely, but all are 100% possible.
I always fret when I go long periods of time without hearing word. And by "long periods", I mean more than two days. Sure, I spend lots of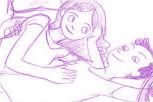 time with friends, and I'm rarely ever at home anymore, but time doesn't fly by quite as quickly when you're counting the minutes. Please tell me, Audrey Niffenegger - why IS love intensified by absence?
Bleh. I've got nothing.
Although if option A comes into the picture,
I will fight
. I will no longer reserve pistol-whipping for grouchy old ladies, if that's what it takes.
Beware my quality seal, bitches!